Toshiba EC-SXII
In cooperation with the renowned Japanese manufacturer of injection molding machines Toshiba Machine co., we offer our customers the latest technology, cutting edge, fully electric injection molding machines for plastics, labeled TOSHIBA MACHINE EC-SXII series.
These machines are equipped with servo-drives, which provide movements in all axes and reaching high speeds with great precision positions. Their undoubted advantage is particularly large reduction in operating costs through energy savings compared to conventional hydraulic, or servo-hydraulic machines.
Movements are provided by of ball screws, whereby it is achieved a sufficient dimensioning force conditions.
High durability is ensured not only with high quality processing of parts, but also thanks to the patented lubrication system and specially used lubricating grease directly from the manufacturer.
These full electric injection molding machines are available in the range from 30 to 350 tons of clamping force (2016 production series SXII) eventually ranging from 50 to 1800 tons of clamping force (SX series).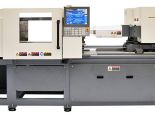 ---
Videa
Soubory ke stažení
Inquiry form