COMAU
INVERA s.r.o. cooperates with the leading supplier of industrial robots, robotic processes and integrated robotic solutions COMAU Robotics.
COMAU offers a wide range of innovative robots, including a large number of robots that are ideal for handling, spot welding, arc welding, stamping lines, palletizing, seal coating, machining and many other applications.
Payload of robots is from 3 to 650 kg and horizontal reach from less than one meter to over 3 meters.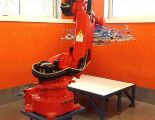 ---
Videa
Soubory ke stažení
Inquiry form