INWORK
In the manufacturing program of the company INVERA s.r.o. is also the production of new universal vertical hydraulic presses, four column construction - INWORK. Presses are designed for a wide range of production and technology like cold forming and molding thermosetting materials. 
INWORK hydraulic presses are manufactured as a four-column vertical construction in a variant with upper or lower clamping system. Workbenches are made of solid cast steel and have "T" grooves for clamping the molds. The clamping plate is guided by bronze bushings. A central or external hydraulic ejector is used to eject the molded part. Presses can be equipped with other types of ejectors, see OPTIONS for reference.
INWORK hydraulic presses are produced in sizes from 50 to 1000 tons of clamping force. The drive is provided by a hydraulic power pack, that is  placed at the top of the press  (or as an option next to the press, behind the press or on a platform in the upper level of the main ram). INWORK hydraulic presses uses wide range of equipment, depending on the used technology. It is possible to choose a multi-layer or even a multi-station design (increased production capacity). For vulcanization of rubber parts, the presses can be fitted with vacuum units and vacuum pumps.
INWORK hydraulic presses are fitted in standard with a modern industrial control system SIEMENS or Bernecker & Rainer with a 10 "TFT color touch control panel.
Presses INWORK are designed and fitted with safety the features to comply with European safety regulations for the operation of these machines in the Czech Republic, in the EU and are CE marked.
Hydraulic circuit of INWORK presses is supplemented by a frequency converter of the speed of the main electric motor or by a servo drive - energy-saving design, saving of electric energy 15 - 45% depending on the overall machine cycle.
According to the customer requirements, we can equip our machines with handling equipment - robots, manipulators, another way of control - using the footswitch, the joystick, additional electric components and adapted technological parameters and control software according to customer specification. We can also offer mold handling systems - ball/spring type.
Variably the presses can be supplied with different sizes and drilling of the clamping plates and the desired maximum opening stroke of the main ram and ejector as well.
Catalogue for download here.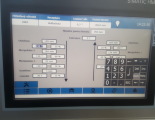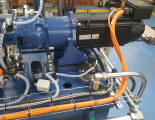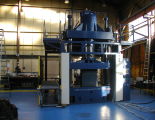 ---
Videa
Soubory ke stažení
Inquiry form